Many people struggle with the chore of wearing their prescription glasses or contact lenses every day. You might be looking for a solution but don't want to go through a surgical procedure such as LASIK or PRK surgery. Luckily there is another non-surgical option for you.
Orthokeratology is the benchmark for non-surgical eyesight correction techniques. Its main purpose is to treat nearsightedness (myopia). The first orthokeratology, or ortho-k, contacts were given overnight wear approval by the Food and Drug Administration in 2002. However, despite its long history, few people are aware of all of its benefits or even how it performs.
What is Orthokeratology?
Ortho-k is a technique for correcting refractive errors in vision by changing the shape of the cornea with the temporary use of progressively flatter hard contact lenses.
The majority of ortho-k lenses are worn at night to reshape the cornea while you sleep. Although the vision benefits are reversible, they can be maintained if you continue to use the lenses as recommended by your eye doctor.
Sometimes ortho-k is suggested to correct children's vision. Some children's vision might continue to develop into adulthood, so it's not advised to undergo vision correction procedures like LASIK until vision has stabilized.
One of the main advantages of orthokeratology is convenience. With the help of ortho-k, some people can even stop using their glasses. However, you should consider the upsides and downsides of this course of treatment before choosing it, then discuss it with your eye doctor.
How Do the Ortho-K Lenses Differ from Regular Lenses?
The lenses used in ortho-k treatments are called rigid gas permeable contact lenses, or RGPs, and are often called molds. They are larger than regular lenses and are worn only at night to reshape the eye. These molds provide a better, crisper vision during the day as a result of the nightly reshaping, and are more robust and resistant to deposit buildup.
These molds may take a few weeks to get used to, as opposed to a few days for soft contacts, and they are not as immediately comfortable. Molds can be worn for up to one year, although they still need to be cleaned on a regular basis.
For a wide range of individuals with various vision issues, they can offer vision correction. These lenses may work best for you if you've tried soft contacts before and they didn't give you the results you desired.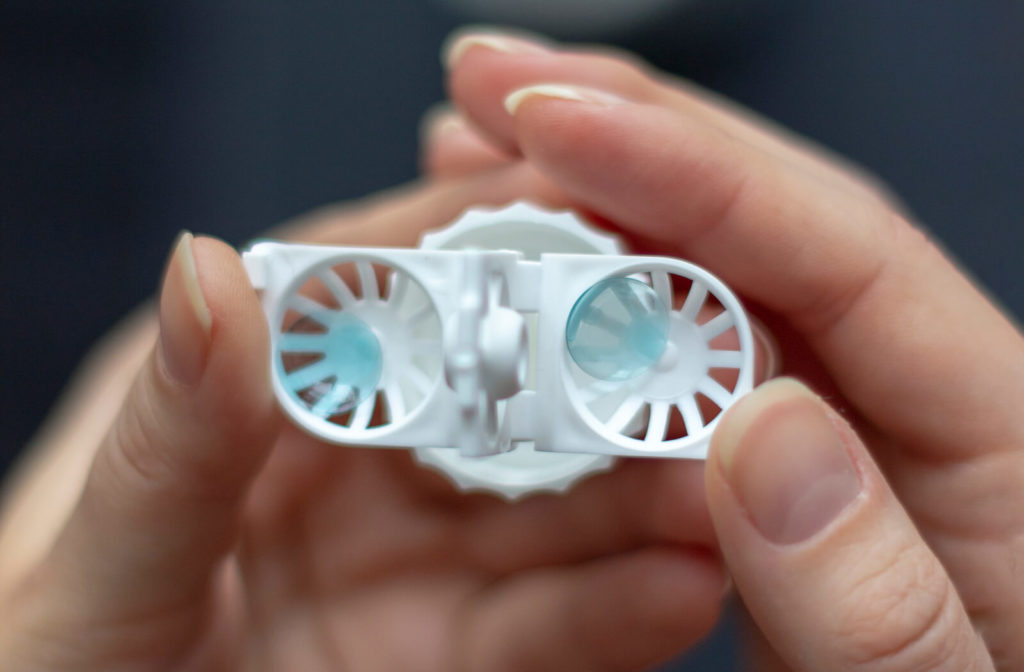 Pros
Worn Only at Night
Ortho-k lenses are worn at night and taken off in the morning. This enables you to go about your day with clear vision without needing to worry about remembering your eyeglasses or having them interfere with any fun activities you have planned for the day.
Slows Myopia Progression
In a 2017 study of the effect of orthokeratology on myopia progression, it was discovered that overnight molds slowed the progression of myopia over a 12-year period. Ortho-k lenses can slow down the growth of the eye and hence slow down the progression of myopia.
Tailored to Your Needs
When fitting for ortho-k lenses, many factors are taken into account to ensure your comfort such as:
Eye shape
Curvature
Desired outcome
Individualized design
No Need for Surgery
To combat the effects of myopia, Ortho-k is a non-surgical alternative to wearing glasses or contact lenses every day.
Cons
Not Permanent
If you are not strict with yourself in the process of wearing your ortho-k lenses while sleeping, your eyes will revert to their original shape and your vision will suffer.
Higher Cost
The complete treatment process of orthokeratology is expensive, especially for a non-permanent solution.
Longer Adjustment Period
When wearing ortho-k lenses during the first few days, some patients experience eye sensitivity. Don't worry; your eyes may just be adjusting to the use of harder lenses. Usually, after the first week, this gets better.
Not Instantaneous
To get stable, clear vision, using the ortho-k method can take a few days to a few weeks. With this kind of treatment, you have to be patient. Make sure you have realistic expectations for your progress.
What Does the Ortho-K Process Look Like?
So, you've made your decision and ortho-k is the best fit for you. What happens now?
To find out if you are qualified for orthokeratology, schedule a consultation with an optometrist or ophthalmologist. Many people who have myopia or astigmatism are qualified, but it's important to get a doctor's diagnosis first.
First, your eye doctor will use a device known as a corneal topographer to map and measure the surface of your cornea before starting your ortho-k therapy. With the use of this tool, your doctor will be able to customize a lens just for your eye.
Your optometrist will be able to design your unique RGP lens by having access to the complex features of your cornea's shape and curvature after the corneal topographer develops the cornea map by reflecting light off the surface of your eye.
Your cornea will remain flat after removing your RGP lenses, which will temporarily restore your eyesight without the need for eyewear or contact lenses. But, your eyes will eventually return to being myopic if you're inconsistent with wearing your ortho-k lenses.Whatever you decide for the improvement of your vision. Willoughby Doctors of Optometry is here to help you with information you can trust. Book a consultation with us today to learn more!