Myopia, commonly known as nearsightedness, is a common vision condition that affects millions of people every day. If you've recently noticed that you're having a difficult time seeing things clearly at a distance but have no trouble seeing close objects, you may be dealing with myopia.
While myopia itself isn't a reversible condition, it is considered highly treatable. Through the use of vision correction (like eyeglasses or contacts), atropine eye drops, or corrective surgery, there are many different methods of myopia treatment.
It's important to visit your optometrist for regular comprehensive eye exams if you notice any problems with your vision, so you can minimize the effects of myopia on your life.
What Is Myopia?
Myopia, more commonly known as nearsightedness, is a common condition that affects roughly 30% of the population. This condition occurs when either:
The eyeball grows so that it's longer than it is wide, or
The cornea (clear front surface of the eye) is curved incorrectly
As a result of both of these problems, light enters and refracts through the eye incorrectly. This leads to the light focusing in front of your retina rather than hitting it directly. This causes your eye to have difficulty focusing on images far away, leading to blurry vision.
The exact causes of myopia aren't fully understood, but it's believed to be caused by a mix of genetic and environmental factors. For example, if one or both of your parents have myopia, you're significantly more likely to develop it yourself.
It isn't just genetics, though—if you overuse screens (like schoolwork or reading), or spend too much time inside, you're more likely to develop myopia.
This condition typically develops in childhood or early adolescence and continues to progress for some years, usually stabilizing by early adulthood. There is no one-size-fits-all version of this condition—myopia can be anywhere from extremely mild to quite extreme, with different levels of vision problems for every person.
Is Myopia Reversible?
While it isn't possible to somehow revert the eye back to its natural state and completely cure myopia, it is a highly treatable condition. Once the condition develops and progresses, the elongation of the eyeball or curvature of the cornea can't be undone—however, through the use of myopia control methods, it can be slowed or treated very effectively.
It's important to note, though—once myopia has begun to progress, it's impossible to reverse the structural changes happening in your eye. However, the sooner the condition is diagnosed, the sooner you can begin to treat your myopia. Early treatment is one of the best ways to handle nearsightedness, as the progression can be slowed if treated properly.
Since myopia typically develops early on in life, it's important that children regularly visit the optometrist for children's eye exams. It's recommended that children have their eyes examined at least once a year, as their eyes will be consistently changing and adjusting as they grow. By determining the health of their eyes early, an optometrist will be able to help you build a plan so your child can have clear vision!
How Is Myopia Treated?
Almost all methods that help treat myopia are designed to counteract the symptoms by changing how light refracts and enters your eye. The most common ways to treat myopia include:
Prescription eyeglasses
Contact lenses
Corrective surgery, like LASIK or PRK
Orthokeratology (ortho-k)
Prescription eyeglasses and contact lenses are the most common ways to treat myopia, as they're convenient and easily accessible. Ortho-k is also a common treatment. This technique uses specially designed rigid lenses worn overnight that temporarily reshape your cornea. Once the lenses are removed, your vision is clear the next day.
Through the use of one or more of these methods of myopia control, you can minimize how myopia affects your day-to-day life. However, it's important to consult with an optometrist before starting any new kind of myopia treatment. They can make sure that whatever approach you use will be effective!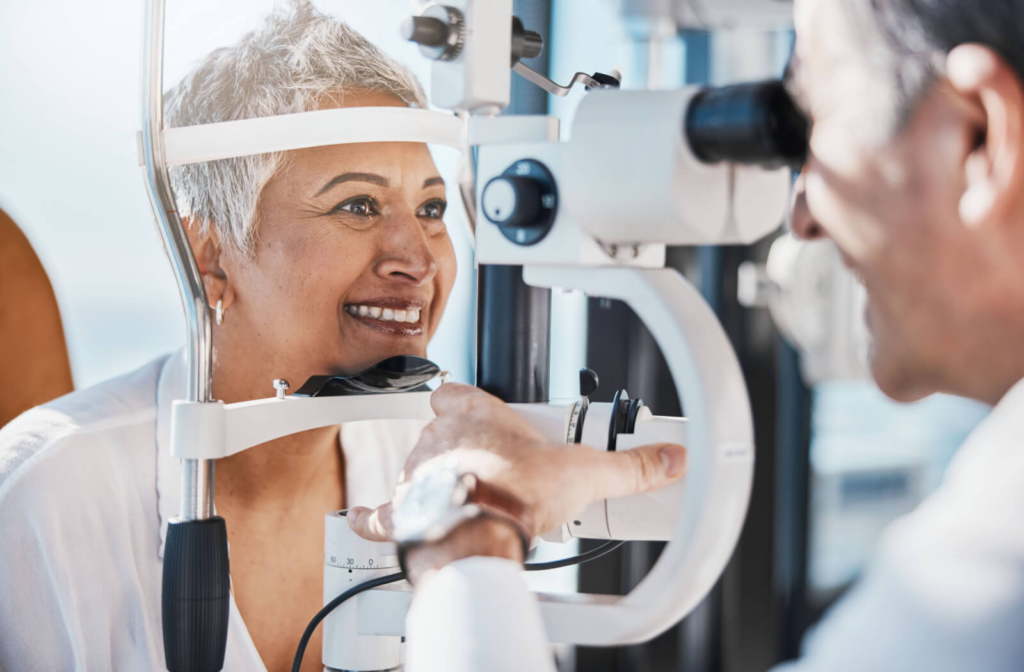 Where to Get Help for Myopia
If you or a loved one are dealing with blurry vision or nearsightedness, the first thing you should do is visit your optometrist. Having an eye care professional is essential, as they have the training and knowledge needed to properly diagnose your myopia and recommend an approach to treating it.
During a comprehensive eye exam, your optometrist will be able to determine an exact prescription for your eyes and how healthy they are, allowing the two of you the opportunity to properly address and treat your myopia. To speak with a caring professional, schedule an appointment with us here at Willoughby Doctors of Optometry today!