Many Canadians turn to contact lenses to correct their vision. They come with convenience and versatility, but some people may find them intimidating because we generally don't like things getting too close to our eyes. When preparing for your first contact lens fitting, you may have questions, but your optometrist can walk you through how to care for and use your contacts.
It may take a bit of time to get used to wearing contact lenses, but they shouldn't be uncomfortable. If you're experiencing irritation or discomfort, there might be something else going on your optometrist should know about.
Dry Eyes
Your eyes require moisture to be at their best. If they don't get enough, you could end up with dry eye syndrome. Usually, this happens because your eyes don't make enough quality tears or the tears evaporate too quickly. However, contact lenses can be a factor.
Just as your eyes need water, so do contact lenses. This is especially true of soft contact lenses, which act like a sponge to help them stay moisturized and effective. But imagine if you're already dealing with dry eyes. These lenses may absorb the remaining moisture in your eyes, leaving the eye even drier than before.
This dryness can cause irritation and discomfort when wearing contact lenses. Fortunately, some lenses are designed for people with dry eye syndrome, and your optometrist can help you find the right style. You can also use moisturizing eye drops to relieve symptoms, but ensure you use a brand compatible with your lenses.
Eye Allergies
Eye allergies, or allergic conjunctivitis, can leave your eyes itchy and uncomfortable. An allergic reaction is your immune system overreacting to a normally harmless substance called an allergen. Though many allergies are seasonal, they can happen at any time.
Some common triggers for eye allergies include:
Pollen
Pet dander
Dust mites
Mould
Cigarette smoke
Diesel exhaust
Allergic reactions can leave your eyes swollen and sensitive, making it hard to wear contact lenses. Allergens can also potentially become trapped between the contact lens and the eye.
In some rare cases, you could have an allergic reaction to a contact lens or cleaning solution. If you notice allergy symptoms after wearing contacts, talk to your optometrist as soon as possible.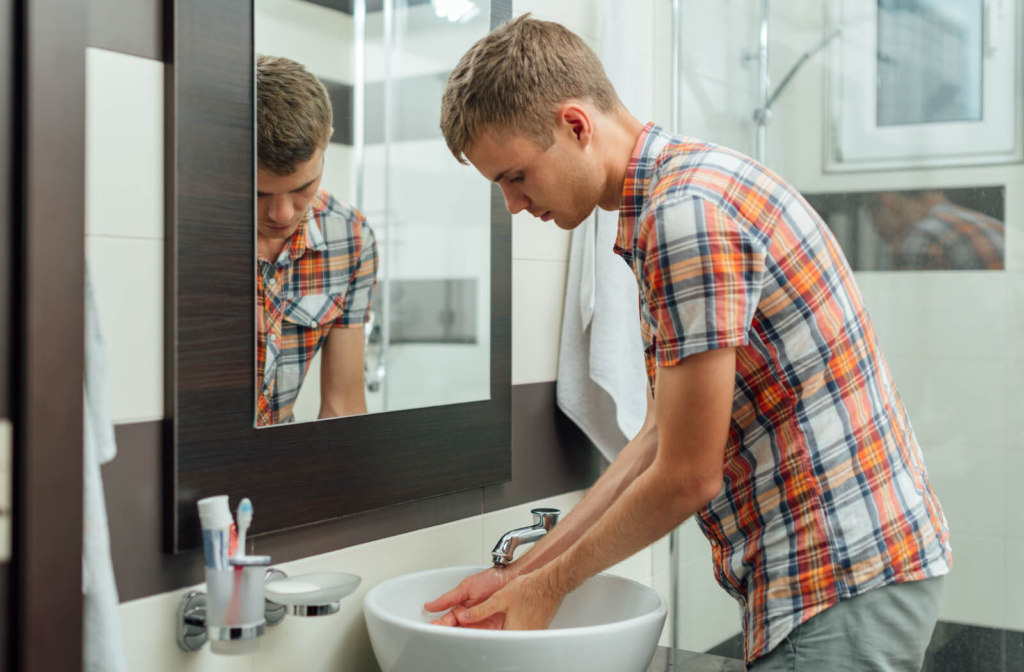 Poor Contact Lens Hygiene
If you wear reusable lenses, such as rigid gas-permeable lenses, biweekly, and monthly lenses, you'll need to keep them clean to keep them effective. If not cared for, a contact lens can develop a buildup of debris or protein that can make the lens uncomfortable to wear. It could even lead to an eye infection.
Follow these general care tips:
Thoroughly wash your hands with unscented soap and water before touching your contact lenses.
Use an optometrist-approved disinfecting solution for your contact lenses.
When storing contact lenses, use a proper storage case that you replace at least every 3 months.
Never wear contact lenses for longer than their recommended wear schedule. Depending on the lens type, you may need to replace them daily, weekly, or monthly.
Eye Health Conditions
Sometimes your eye discomfort could be a sign of a more severe eye condition, such as conjunctivitis. Hopefully, removing the contact lens also eliminates the irritation. If it doesn't, you'll want to contact your optometrist for an eye exam.
Your Contact Lens Is Inside Out
Yes, it is possible to wear your contact lenses inside out. People who wear soft contact lenses are more likely to experience this since these lenses are extremely thin and pliable. It's more common than you think, but generally not something to worry about.
If you think your contact lens is inside out, simply remove it, make sure it's clean, and put it back in the correct way.
Your Contact Is the Wrong Lens for You
Your optometrist can carefully fit your lenses to your eyes. Using advanced imaging technology, an optometrist can map your eye's surface, measure the quality of your tears, and determine what lens is right for your lifestyle. Unfortunately, you can't share contacts since the specific type of contact lens that's right for you may not be the same as someone else.
It used to be that some eyes were simply too hard to fit. But these days, there are lenses that can fit all sorts of shapes and conditions. Scleral lenses can be used with dry eyes, toric lenses are designed for astigmatism, and multifocal lenses help people with myopia. If your contact lenses are uncomfortable, it may be because you simply need a different kind of lens.
Get Comfortable with Contacts
Wearing contact lenses for the first time can feel weird. Even experienced wearers may notice discomfort from time to time, but it shouldn't be constant. Willoughby Doctors of Optometry knows contact lenses, and if you're less than happy with yours, our friendly team is ready to work with you one-on-one to find the solution.
If you're feeling uncomfortable in your contacts, book an appointment with us today and find your perfect fit!